"Just As Nice" Thrift Store (in Lake City)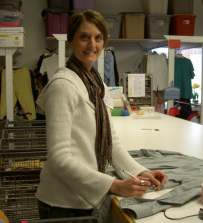 Sally our Thrift Store Manager
"Just As Nice" thrift store allows usable items to become vital once again. People in our community benefit by shopping with us and also by donating their clothing, household items, furniture etc. Our shoppers love our values and find treasures at bargain prices.

The sales proceeds from the store go towards funding our participant services. Which in turn goes right back into our community. Making the "Just As Nice" thrift store a viable resource for FRIENDS Ministry to be able to aid those in need.
---
Our Store Hours

Monday- Friday- 10:00-5:00
Saturday-10:00-2:00
Closed Sunday

Wednesday is 1/2 off on all items except furniture.
Donations accepted at our Lake city location only.

"Just As Nice" Thrift Store
P.O. Box 399
3728 S. Morey Rd. (M-66)
Lake City, MI 49651

Phone: 231-839-5683



We accept all clothing, furniture, toys books, household items, dishes, silverware counter-top appliances, baby items bedding, tools, etc.

We do not accept non-working TV's, typewriters, large appliances, computers, exercise equipment and old microwaves.

Please do not leave donations outside; we currently are not equipped to accept donations outside of store hours.


---
Friends Ministry Store (in Marion) an outreach of Friends Ministry C.C.D.O.
Friends Ministry has opened a new Thrift Store in Marion, MI. In our Marion store we have clothing, household items, and books for a unique shopping experience. We are located at:

Friends Thrift Store (in Marion)
103 E. Main St.
Marion, MI 49665

Thrift Store Hours:
Monday, - Friday 10:00 - 4:00
Saturday 10:00 - 2:00
Closed Sunday

Thursday is 1/2 off day
Phone: 231-743-6882


Directions to Friends Ministry Thrift Store (Marion):